In our latest instalment of Generation Next, we catch up with Waikato Stud's Bloodstock Manager Jaimee Gowler, who has developed from polo groom into a key senior role at the famed Matamata-based nursery, Waikato Stud.

While Gowler doesn't come from a racing family horses have always played an important part in her life, with the New Zealand local growing up around them on her father's sheep and cattle farm.
"I started with horses in general when I was a kid, I was a pretty keen showjumper competitively while I was still at school," Gowler told TDN AusNZ.
"My dad is a sheep and beef farmer, so he always had horses on the farm and then we got into showjumping as kids and he got really into that and carted us around everywhere week in, week out."
Gowler's passion for horses led to her securing work as a polo groom with Douglas Duncan before the horseman's connection with Waikato Stud Principal Mark Chittick opened the door for her to take on a race educating and pre-training role at Courtza Park.
She loved every minute of her time working with and educating young horses, saying that she still misses aspects of the role.
"I loved it," Gowler said. "I love working with young horses and back then it was all I wanted to do and riding 10 horses a day was just great.
"David McKinnon, who I worked with there is a great horseman and a really good breaker who helped me handle some of the spicier weanlings and yearlings."


The transition period
A shortage of staff ahead of the New Zealand Bloodstock Karaka Yearling Sale paved the way for Gowler to transition from breaking and pre-training to working in the yearling yards at Waikato.
"The guys were a little short on numbers at the yearling sale that year, so they asked if I could go up and help out. I sort of just got chucked on the lead and had no idea what I was doing," Gowler said.
"At the time it was just grooming but I had a go leading and I just loved it, and I then went from breaking and pre-training to working with the young horses which I loved doing and still love doing."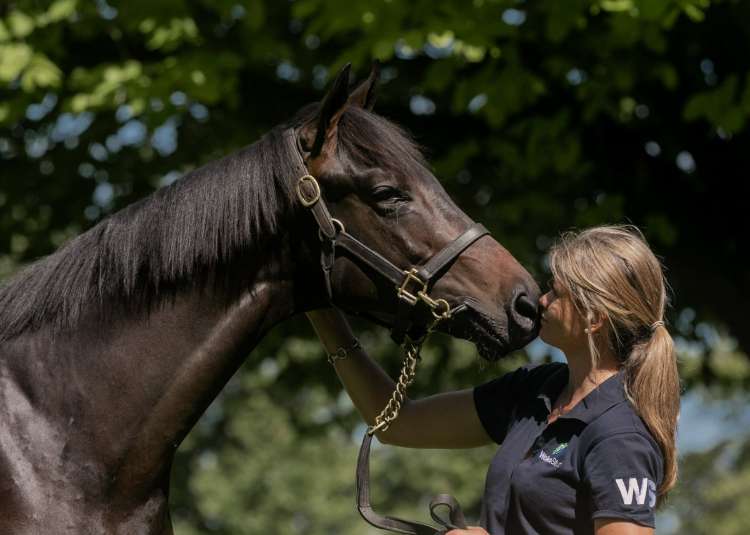 Jaimee Gowler with a yearling at Waikato Stud | Image courtesy of Waikato Stud
While working in the yearling yard under Kerrie Cox, Gowler was offered the opportunity to work abroad, which she took with both hands.
She would do a short stint in Australia with Widden Stud before heading to Europe for the best part of two years where she plied her trade with trainer Charlie Hills at Lambourn before working at Hillwood Stud and The Castlebridge Consignment.
She said the Northern Hemisphere trip was a beneficial experience that added further strings to her bow.
"It's totally different over there but I definitely love how we do it here cause it's more of a natural approach, over there. They don't have the land that we do and the horses are boxed all of the time," Gowler said.
"They obviously have to do what they do over there, and they exercise them a lot and I took a little bit from that, you can do a little bit of exercise, a lot more turn out time and sort of combine the two a little bit.
"Although I wouldn't change what we do here at Waikato as it works and it has always worked, but I think it is good to go out and explore other ways of doing things."

The next step
When Kerrie Cox departed Waikato for Blandford Lodge last year it paved the way for Gowler to take on the vacant Bloodstock Manager position.
Gowler is thoroughly enjoying the challenge of the role and said she is blessed to have the support of Chittick and Business Manager Mike Rennie.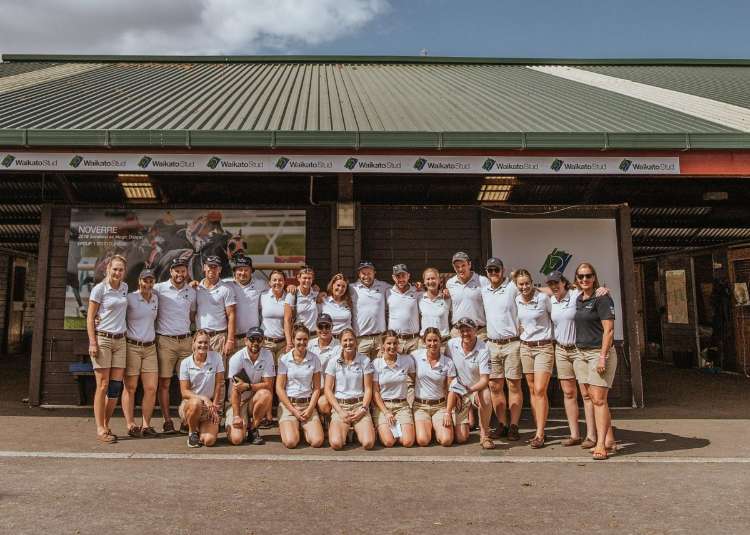 The Waikato Stud team at this year's New Zealand Bloodstock Karaka Yearling Sale | Image courtesy of Waikato Stud


"I hadn't really been out of the yearling yard for the last four or five years prior, so the step up into more of the breeding area and other areas of the farm has been challenging but I've had a lot of support from the whole team which has made the transition a lot easier," Gowler said.
"Both Mark (Chittick) and Mike (Rennie) have been great to me, particularly in the last year or so while I've stepped up into a bigger role.
"I know that I can ask them anything on any day of the week and they are very supportive, which has been the way my entire time at Waikato."
Life-changing result
Gowler had never been involved in the ownership of a broodmare before Chittick offered her the opportunity to take an interest in Iffraaj (GB) mare Style By Design (NZ), whose first foal sold for NZ$525,000 at this year's New Zealand Bloodstock Karaka Yearling Sale.
She described the occasion as somewhat 'overwhelming' when speaking with TDN AusNZ following the Sale in March and still can't believe the 'life-changing' result happened two months on.
"It is definitely the biggest achievement in my career so far, I'm just so grateful to have had that opportunity to be involved with Mike (Rennie) and Mark (Chittick), it was so special to be able to experience that with my colleagues," Gowler said.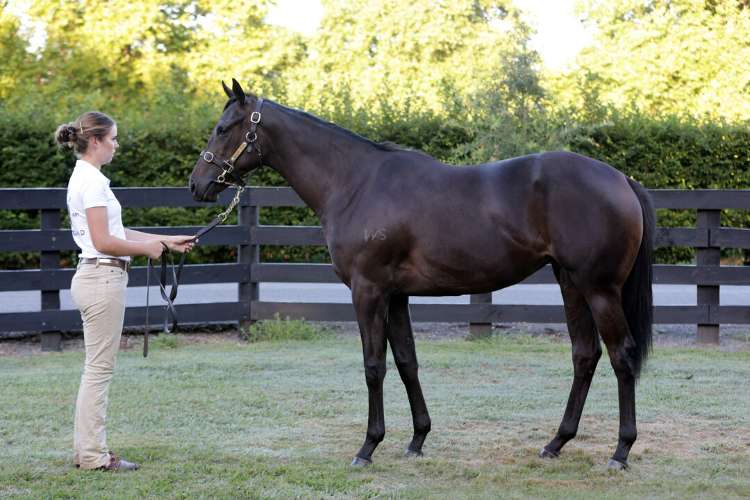 Savabeel x Style By Design (NZ) (filly) sold for NZ$525,000 at this year's New Zealand Bloodstock Karaka Yearling Sale | Image courtesy of NZB
"I would love to reinvest and get involved in another mare; it has been a life-changing result for me."
Despite having ambitions to further her personal breeding interests and invest in property with her fiancé, Gowler remains content with where she is currently at in her career.
She said her time and energy is dedicated to fulfilling her role at Waikato in the best possible manner to ensure that the establishment continues to thrive and prosper.
"I'm pretty content with where I am at currently, I've had just the one season under my belt in the new role and I just really want to get stuck into the next season and keep learning and keep progressing," Gowler said.
"I want to help out Mark and Mike as much as I can going forward and that's my short-term career goal."
Gowler's advice to young people starting out in the breeding and racing industry is to 'put your head down' and do the hard yards, saying that this mindset combined with patience will ensure that ambitions can be achieved.
"It's just about taking up any opportunity that comes your way, working really hard and not letting those opportunities pass you by," Gowler said.
"The way I've been brought up is to just get your head down when you're younger and do the hard yards and learn as much as you can."


Super stallions creating
Gowler is excited about the future of Waikato's stallion ranks saying that Super Seth's (NZ) first crop of yearlings are lovely individuals.
She said outstanding 3-year-old Noverre (NZ) is letting down superbly ahead of his first season at stud and that the entire farm is eagerly awaiting the arrival of Banquo's first foals in the coming months.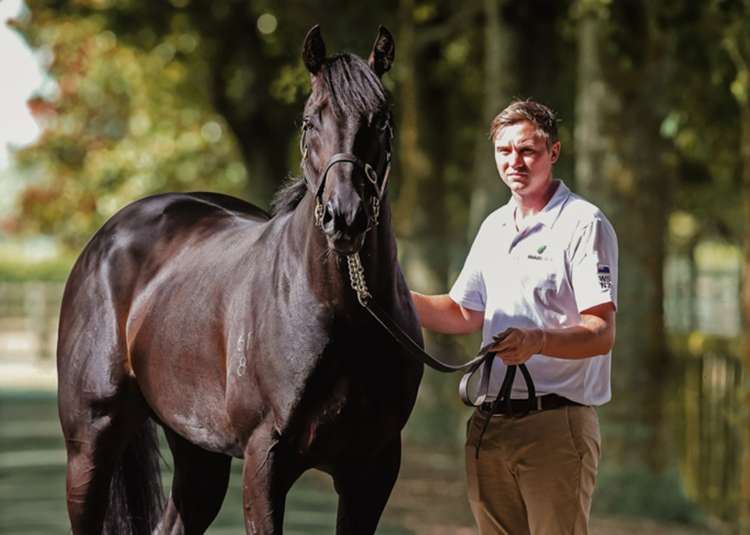 Noverre (NZ) | Standing at Waikato Stud
"I'm really excited to see how Super Seth's yearlings keep developing, as we've actually had quite a few in this week's bunch go through the boxes and they're very strong and forward types," Gowler said.
"I'm also very excited about Noverre, he's such a beautiful horse with such a good attitude. He's such a dude and always was when we sold him through our draft a couple of years ago." - TDN AusNZ (Jackson Frantz)